NCS2584: Video Amplifier, 4-Channel, with Load Detection and Signal Detection
具体说明:
The NCS2584 is a 4 channel high speed video driver...
The NCS2584 is a 4 channel high speed video driver with 6th order Butterworth Reconstruction filters on each channel. A first set of 3 channels has High Definition (HD) 34 MHz filters, one per channel. A fourth channel offers an extra driver for Cvbs type video signal with an 8 MHz filter. The NCS2584 is in fact a combination of a triple HD video driver plus a single Cvbs video driver. In addition, this four channel video driver integrates an auto shutdown function in order to detect the moment when the DAC is turned on or off. It also embeds a load detection to lower the power consumption when the TV is unplugged. To further reduce the layout and software complexity, the NCS2584 will automatically turn off without any external command. These features help significantly the systems like Blu-Ray players or Set Top Boxes to be in line with the restricting energy saving standards on standby modes. It is designed to be compatible with Digital to Analog Converters (DAC) embedded in most video processors. All channels can accept DC or AC coupled signals. In case of AC coupled inputs, the internal clamps are enabled. The outputs can drive both AC and DC coupled 150 ohms loads but also two loads of 150 ohms in parallel.
特性
3 High Definition Filters with 6th Order Butterworth Filter and
34 MHz Bandwidth for YPbPr 1080i - Drive High Definition Signal with good attenuation @ 74.25MHz (sampling rate of the DAC)
One Cvbs Driver Including 6th Order Butterworth 8 MHz Filter - Drive Standard Definition Signal with good attenuation @ 27MHz (sampling rate of the DAC)
Integrated Automatic Shutdown Function to Improve Power Consumption Savings When the DAC is Off - Reduce Icc when no input video signal is present
Integrated Load Detection for TV Presence - Reduce Icc by detecting if the TV is plugged
Low Pin Count for Layout Simplification - Remove the necessity of EN pins
Internal Fixed Gain: 6 dB +/-0.2 - Accuracy of Gain to keep image to flicker
AC or DC Coupled Inputs and Outputs - Adaptability to customer design requirement
Each channel Capable to Drive 2 Loads of 150 ohms in Parallel - for SCART application
Operating Supply Voltage Range: +3.3 V and 5.0 V - Cover both 3.3V and 5V architecture
TSSOP14 Package - Pin to Pin compatible with THS7373
应用
Home Theatre
终端产品
Set Top Box
Blu-Ray Player
供货情况和样品
NCS2584DTBR2G
状况:&nbspActive
Compliance:&nbspPb-free Halide free
具体说明:&nbspVideo Amplifier, 4-Channel, with Load Detection and Signal Detection
封装&nbsp类型:&nbspTSSOP-14
封装&nbsp外形:&nbsp948G-01
MSL:&nbsp1
容器&nbsp类型:&nbspREEL
容器&nbsp数量:&nbsp2500
封装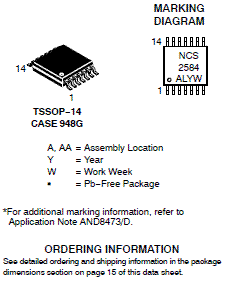 Specifications
Channels: 4&nbsp
GBW Typ (MHz): 34&nbsp 8&nbsp
VCC Max (V): 5.5&nbsp
ID Typ (mA): 40&nbsp
TA Min (°C): -40&nbsp
TA Max (°C): 85&nbsp
Package Type: TSSOP-14&nbsp