MC74ACT652: Octal Bus Transceiver/Register with 3-State Outputs (Non-inverting)
具体说明:
The MC74AC/ACT652 consists of registered bus trans...
The MC74AC/ACT652 consists of registered bus transceiver circuits, with outputs, D-type flip-flops and control circuitry providing multiplexed transmission of data directly from the input bus or from the internal storage registers. Data on the A or B bus will be loaded into the respective registers on the LOW-to-HIGH transition of the appropriate clock pin (CAB or CBA).
特性
Independent Registers for A and B Buses
Multiplexed Real-Time and Stored Data Transfers
Choice of True and Inverting Data Paths
3-State Outputs
300 mil Slim Dual-in-Line Package
Outputs Source/Sink 24 mA
'ACT652 Has TTL Compatible Inputs
These devices are available in Pb-free package(s). Specifications herein apply to both standard and Pb-free devices. Please see our website at www.onsemi.com for specific Pb-free orderable part numbers, or contact your local ON Semiconductor sales office or representative.
供货情况和样品
MC74ACT652DWG
状况:&nbspActive
Compliance:&nbspPb-free Halide free
具体说明:&nbspOctal Bus Transceiver/Register with 3-State Outputs (Non-inverting)
封装&nbsp类型:&nbspSOIC?24 WB
封装&nbsp外形:&nbsp0.0751
MSL:&nbsp3
容器&nbsp类型:&nbspTUBE
容器&nbsp数量:&nbsp30
库存
Market Leadtime (weeks):2 to 4
Arrow:0
ON Semiconductor:12,870
封装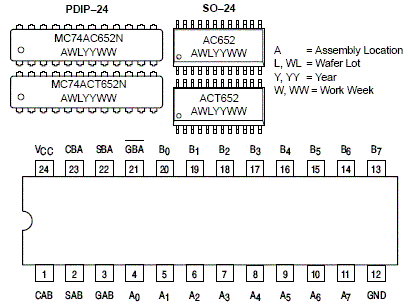 Specifications
Channels: 8&nbsp
Output: 3-State&nbsp
VCC Min (V): 4.5&nbsp
VCC Max (V): 5.5&nbsp
tpd Max (ns): 14.5&nbsp
IO Max (mA): 24&nbsp
Package Type: SOIC?24 WB&nbsp