LC709511F: Power Bank Controller, USB Type-C & Quick Charge™ 3.0, for 1-Cell Li-Ion and Li-Poly Battery
具体说明:
LC709511F is a Lithium ion switching charger contr...
LC709511F is a Lithium ion switching charger controller for Power Bank. This device has all functions to control Power Bank application. It includes Type-C port control and Quick Charge 3.0 HVDCP. In addition this device applies 2.0 V or 2.7 V on USB data lines automatically for devices require the voltage. The built-in switching controller can output from 5 V up to 12 V for Quick Charge. The high power output for USB Type-C and Quick Charge is possible with appropriate external MOSFETs.
特性
Easy power scaling with external MOSFETs - Power scaling with external MOSFETs support 30 W application
Buck charge / Boost charge - Basic functions required in Power Bank Application is prepared
Supports Quick Charge 3.0 HVDCP Class A. 5 V up to 12 V - HV Boost IC and QC communication IC can be eliminated.It reduces the set cost.
Supports USB type-C DRP without external IC - Built-in portcontrol IC
Applies 2.7 V or 2.0 V on USB data lines for devices require it - Recognize types of PortableDevice and require the most suitable current
Prepared firmware supports various combination of USB port - It can change firmware depend on customer models.
Supports USB BC1.2 - Supports general adapters
Battery level gauging - Simple setting for various batteries
Status & Battery level display with 4 LEDs - Built-in 4 LED drivers, customers don't need add MCU
Boost auto start-up - Customer don't need to add button to charge smartphone.
Thermistor sensing function - Safety functions
Over voltage / Over current detection - Safety functions
JEITA compliance Battery management - Safety charging
Safety timer - Prevent from charging to trouble batteries
Low quiescent current: 15 µA at Low power mode - Longer battery life
应用
Lithium-ion Switching Charger Controller
USB-related Charger
终端产品
Power Bank
供货情况和样品
LC709511FQD-A00TWG
状况:&nbspActive
Compliance:&nbspPb-free Halide free
具体说明:&nbspPower Bank Controller, USB Type-C & Quick Charge™ 3.0, for 1-Cell Li-Ion and Li-Poly Battery
封装&nbsp类型:&nbspQFN-52
封装&nbsp外形:&nbsp485BE
MSL:&nbsp3
容器&nbsp类型:&nbspREEL
容器&nbsp数量:&nbsp3000
封装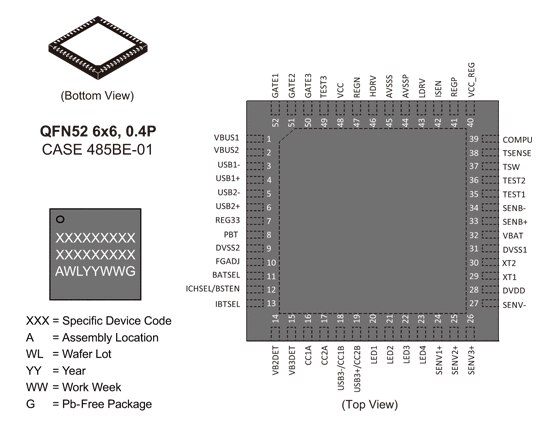 Specifications
Type: Li-Ion/Polymer&nbsp
Number of Cells Charged: 1&nbsp
VCC Min (V): 2.8&nbsp
VCC Max (V): 13.2&nbsp
ID Max (µA): 15&nbsp
Package Type: QFN-52&nbsp