LC709501F: Power Bank Controller, USB Type-C & Quick Charge™ 3.0, for 1-Cell Li-Ion and Li-Poly Battery
具体说明:
LC709501F is a Lithium ion switching charger contr...
LC709501F is a Lithium ion switching charger controller for Power Bank. This device has all functions to control Power Bank application. It can control Type-C port control IC and includes Quick Charge 3.0 HVDCP. The built-in switching controller can output from 5 V up to 12 V for Quick Charge. The high power output for USB Type-C and Quick Charge is possible with appropriate external MOSFETs.
特性
Supports USB type-C DRP with Port control IC - MCU to control Type-C Port control ICs can be eliminated. In addition customers don't need to develop the MCU software.
Supports Quick Charge 3.0 HVDCP Class A. 5 V up to 12 V - HV Boost IC and QC communication IC can be eliminated. It reduces the set cost.
Portable device communication Displays Power Bank battery information on smartphones
(USB 2.0 Full Speed Host Controller) (Planning) - Customer can enjoy the Power Bank detail infomation display on Smart Phone Screen
Buck charge / Boost charge - Basic functoins required in Power Bank Application is prepared
Low quiescent current : 15 µA at Low power mode - Low Power consumption helps longer Battery life
Supports 5 V up to 12 V operation - Supports general Smart Phone charging voltage
Easy power scaling with external MOSFETs - Power scaling with external MOSFETs support 30 W application
Automatic USB detection - This function is prepared as Basic functions
Prepared firmware supports various combination of USB port - It can change firmware depend on customer models.
Supports USB BC1.2 - Supports general adaptor
Battery level gauging - Simple setting for various batteries
Status & Battery level display with 4 LEDs - Build in 4 LED drivers, customers don't need to add MCU.
Boost auto start-up - Customer don't need to add button to charge smartphone.
Over voltage / Over current detection - Safety functions
JEITA compliance Battery management - Safety charging
Safety timer - Prevent from charging to trouble batteries
应用
Lithium-ion Switching Charger Controller
USB-related Charger
终端产品
Power Bank
供货情况和样品
LC709501FQD-A00TXG
状况:&nbspActive
Compliance:&nbspPb-free Halide free
具体说明:&nbspPower Bank Controller, USB Type-C & Quick Charge™ 3.0, for 1-Cell Li-Ion and Li-Poly Battery
封装&nbsp类型:&nbspQFN-52
封装&nbsp外形:&nbsp485BE
MSL:&nbsp3
容器&nbsp类型:&nbspREEL
容器&nbsp数量:&nbsp2500
库存
Market Leadtime (weeks):4 to 8
Arrow:0
Newark:>1K
封装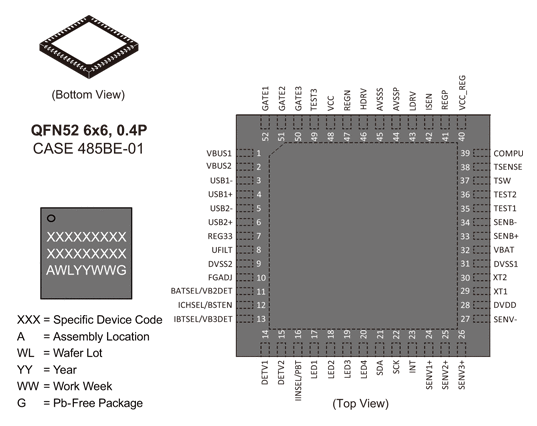 Specifications
Bits: &nbsp
ROM (bits): &nbsp
RAM (bits): &nbsp
Bus Cycle Time Min (µs): &nbsp
Instruction Cycle Time Min (µs): &nbsp
Interrupts: &nbsp
IO Ports: &nbsp
ADC: &nbsp
PWM Outputs: &nbsp
Timers: &nbsp
USB: &nbsp
LCD Controller/ Driver: &nbsp
VDD Min (V): &nbsp
VDD Max (V): &nbsp
Package Type: QFN-52&nbsp